We've been fortunate to have the opportunity to design and develop the websites of some incredible charitable organizations here in Regina, Saskatchewan. When we first started Command Base back in 2011, we didn't just want to be another web shop that would churn out site after site with no regard for whom they were working for. We wanted to help those who are helping change the world. Over the course of 2013 and 2014, we've committed our website design services to the following Regina Non-Profit Organizations:
Saskatchewan SPCA
The Saskatchewan SPCA were in dire need of a new website design. Their old website was considered by many to be difficult to use, and nearly impossible for the SSPCA Staff to update. Their website just wasn't showcasing what the SSPCA were providing to Saskatchewan. After a quick demonstration of what we had in mind, we redesigned their website from the ground up on WordPress.
We set up the Saskatchewan SPCA with a fully responsive website, with a custom education centre which would house their education articles to advocate the protection of animals in Saskatchewan. They also needed a Donation portal, to instruct users how they can help the Saskatchewan SPCA pursue its mission. We also set them up with an ecommerce gateway, where they are able to sell tickets to their Annual Animal Welfare conference. On top of that, they got the ability to easily update their pages, and news posts (as with all WordPress websites).
Old Saskatchewan SPCA Website
A screenshot of the old SSPCA website circa 2012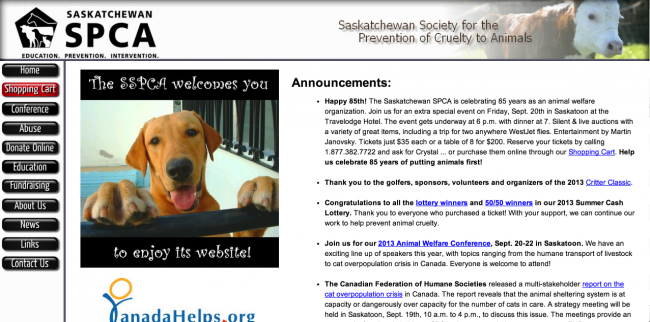 New Saskatchewan SPCA Website Design
A screenshot of the New SSPCA website Circa 2013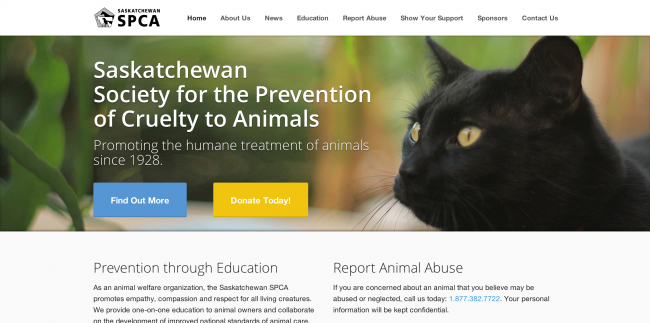 After a few hours of training, the staff at the Saskatchewan SPCA were in full control of their website and its content. Since their launch in October 2013, they've seen a tremendous increase in traffic, including over 30,000 Page Views.
ACERT
The Adult Centre for Employment Readiness and Training (ACERT) contacted us after working on the Regina Food Bank's website. ACERT never had a website, so we were starting from a blank slate. We wanted a design that came off as approachable, professional, and most of all, trustworthy. By using faces, and images of people learning, or performing their skill, we were able to establish credibility.
New Acert Website
The New Adult Centre for Employment Readiness and Training website, circa 2014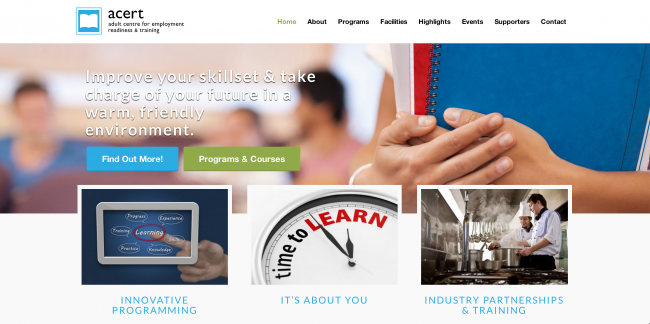 We developed a custom Courses management system, which allows ACERT staff to add and remove courses as they see fit. Each course is tied to a registration form for easy online registration. We also developed an Events manager, for students to see upcoming job fairs or ACERT sponsored events.
Regina Food Bank
The Regina Food Bank had been surviving on an archaic website for far too many years. Updates were near impossible to manage, and the site wasn't performing what it was intended to do. The folks at the Regina Food Bank wanted to Help More People, Receive More Donations, and encourage the people of Regina to get involved and help fight hunger in our community.
Arcas Advertising designed a superb website mock, which we developed into the site you see today. With the help of Sherwood Co-op, we developed the Regina Food Bank a custom Virtual Food Drive, which allows visitors to purchase bulk food on behalf of the Regina Food Bank. Between October 4th, 2013 and January 15th, 2014, the Regina Food Bank averaged nearly 4,000 monthly unique visits, 10,000 pages views, and 777 Distinct Virtual Food Drive donations worth a total value of $38,171.36. Total donations including general donations and Virtual Food Drive during this period was $107,420 versus a previous year total of $18,000. A testament to what a modern website can provide.
New Regina Food Bank Website
The New Regina Food Bank website, circa 2013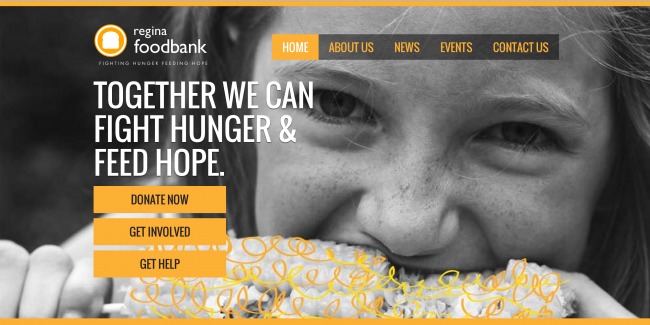 Regina Humane Society
Both Andy & I are big wimps when it comes to animals. It's nearly impossible to walk into the and not have your heart melt for these pets that need a home. After adopting a couple of kittens (David Bowie & Freddie Mercury), we reached out to offer the Regina Humane Society a new website. Their current system relied on Blackbauds proprietary CMS. If you've ever had to use their system, you'll know how arduous of a process it can be to do any updates. Even as developers we struggled within their environment.
We wanted to move them to an open source CMS that they'd completely own outright. No crazy licensing fees, no huge delays for changes, and best of all, more customization. We sold them on WordPress after a quick demo of what we can do. Within several months we had completely redeveloped their website based on the designs by design-superstar, Kristian Platt.
The Regina Humane Society had several legacy systems that needed to stay in place, including ShelterBuddy, which is used to manage animals coming and going in the Shelter. We developed a custom "Adoptions" hub, allowing users to view which adoptions their ShelterBuddy account had listed as "Available for adoption" and set up an hourly cron job which pulled in data pertinent to the user, such as animal type, animal breed, age, sex, whether they've been spayed/neutered, and of course the pets image. Users are given the ability to filter to filter by some of this data. Users are then given a brief description of the animal, and can then choose to adopt this pet, or sponsor its adoption to ease the burden on a family who has the space for another member to join their family. These automated hourly updates to their adoptions page ensures the pets listed on their page are always as up to date as possible.
We also provided the Regina Humane Society with a custom Events manager, as well as a Donation Catalogue, which integrates with their bricks & mortar Merchant gateway, ensuring low transaction fees on their online transactions. The site has only recently launched, so we can't speak on stats quite yet, but its clear that the updates to the design and functionality of their website has made for a more user friendly and on-brand experience.
Old Regina Humane Society Website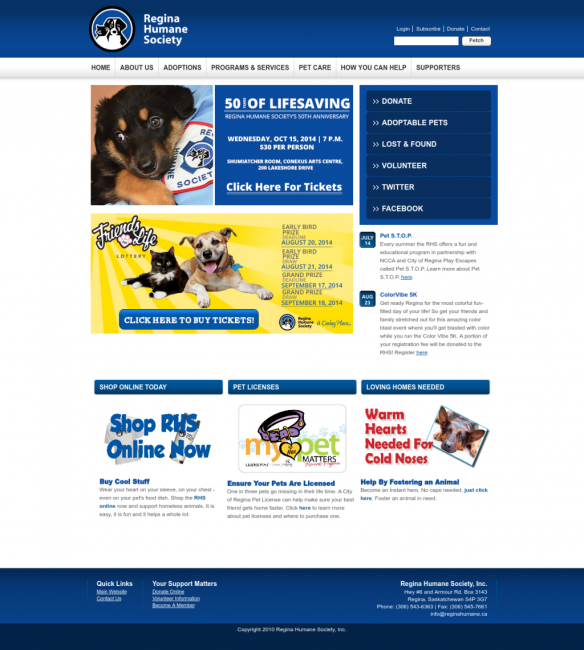 New Regina Humane Society Website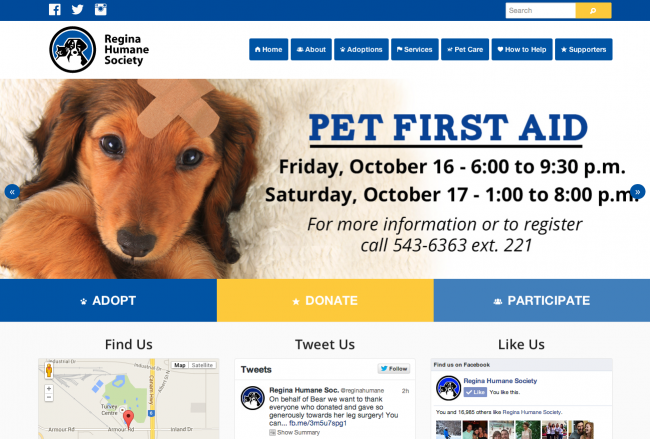 Saskatchewan Sports Hall of Fame
The Saskatchewan Sports Hall of Fame was one of the largest website design projects to date. This project required your standard news posts, and pages, but also required an advanced Inductee archive, where users could filter Inductees by Sport, Hometown, Date of Birth, Induction Year, and Gender. With so many custom taxonomies, an advanced search was needed to search through all taxonomy terms and content within each Inductee Post.
In 2014, we donated the 2nd iteration of their redesign. While the old design was suitable for their first year on WordPress, it wasn't responsive, limiting users from easily accessing information from their mobile devices. The Saskatchewan Sports Hall of Fame also commenced their Online Artifact Database to showcase the countless artifacts they've acquired throughout their long history. From game winning baseballs, to medals, trophies, jerseys, and other memorabilia, we needed to provide a similar treatment as we did on the Inductees for these Artifacts.
New Saskatchewan Sports Hall of Fame Website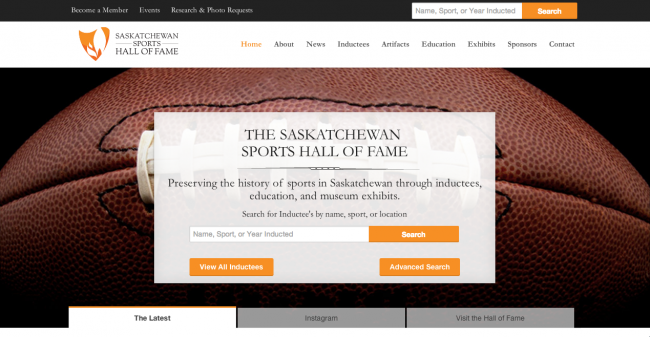 Since their website launch in 2012, they've received nearly 400,000 Page Views, with nearly 200,000 of those coming in the last year, since updating to a responsive design. Their website is currently receiving a monthly average of 30,000 unique visits, with an average of 7.53 pages per visit. We're very pleased with the results!
Proud Regina Website Designs
We've learned a lot over the course of the last couple of years. From working with large boards, to integrating legacy systems, to the daily challenges Non Profits face. We're proud to see how far we've come, working with the Non-Profit community here in beautiful Regina. We've met a lot of great people while working on these projects, and look forward to finding another NPO that lines up with our core beliefs that we can help out.
If you require our Website Design services for your business or charitable organization, please feel free to contact us!