One of the pains of having a website, is ensuring it's performing as well as it can. Nobody wants to lag behind their competitors, or have to cringe everytime they share their website to friends, colleagues, or clients. There's a million little things that add up. Making sure your content is legible, clean, aligned properly, and that the design reflects who you are. Then on top of that, there's on site SEO (Search Engine Optimization).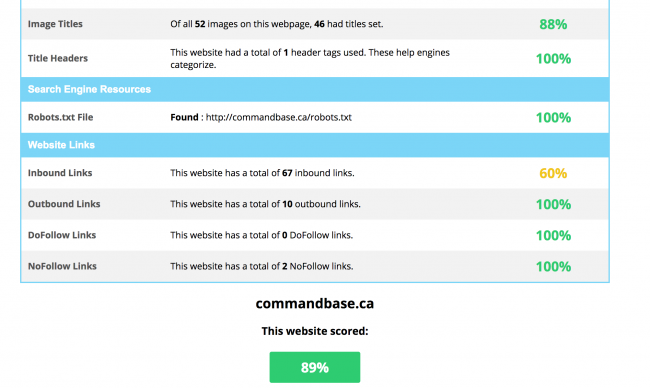 SEO you say?
Most people know by now that SEO is something that we as website designers, developers, managers, etc, need to worry about. While at the end of the day, the content you put out there will always remain most important, we still need to ensure that your website is developed to optimally take advantage of tried and tested methods to help you rank higher on Search Engine Results Pages (SERPs). Knowing this, we decided to integrate a free on-site SEO Page Analyzer on our website for anyone to use.
Our SEO Report Card Shows You:
Current Pagerank
Website URL
Blacklist Records
Website Speed
Domain Name Rating
Homepage Title Rating
Description Rating
Keywords Rating
Rich Content Rating
Domain Mentions
Image ALT Tags
Image Titles
Title Headers
Robots.txt File
Inbound Links
Outbound Links
DoFollow Links
NoFollow Links
Then lastly, it spits out your score.
Our hopes is that this tool will help other website designers improve their markup, and also remind us to triple check our own sites that nothing was missed. Let us know what you think, and please feel free to share this SEO tool.