I'm sure you've been there before. You start up your iTunes or iPod and scroll through your playlists five times before settling on the same mix you've listened to for the past ten days. Lack of kick-ass, upbeat and inspiring music can result in not only boredom, but could eventually lead to creative block. Well, not anymore! The coolest website to knock our socks off over the past month or so has definitely been Designers.mx.
By Designers, For Designers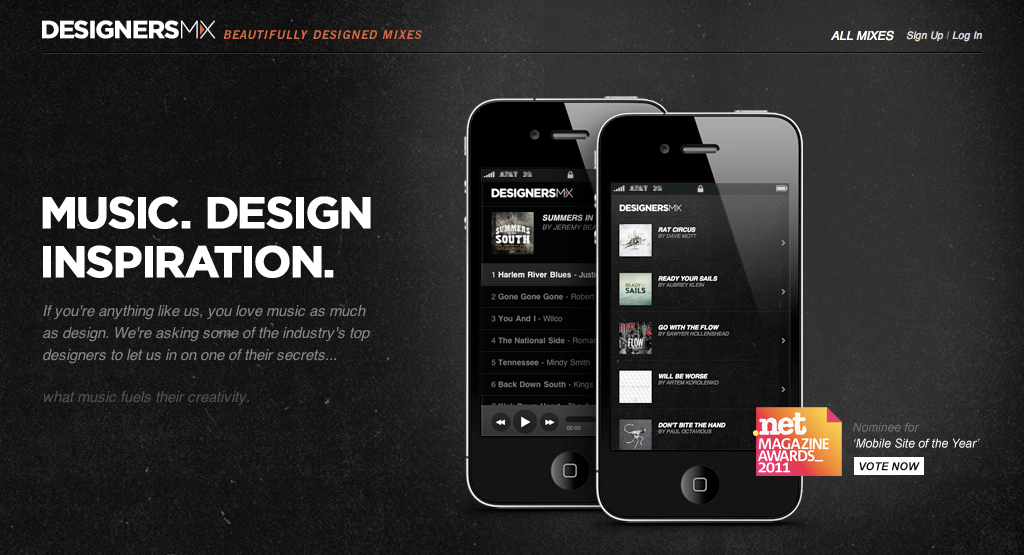 This site features some really great streaming mixes created by some of the top designers in the industry today. The thing is, not anyone can go and create their own mix and upload it to the site. It's invite only… meaning only the cream of the crop in the industry get invited, similar to other popular design sites like Dribbble or Forrst. Since designers tend to have awesome taste in music, this is a pretty sweet perk. But it's not just the mixes that rip and tear. All the album covers are designed by said professional designers. So while your listening to some great music, you can also be inspired to start work on that client logo you've been putting off over the last week or so.
From Genres to Networking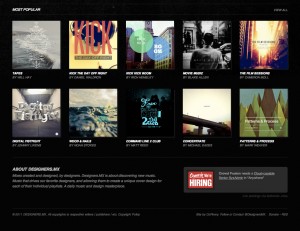 For the most part, all mixes tend to range somewhere in between indie, electronic and hip-hop, but you can find the odd mix featuring folk, pop and metal as
well. One thing is a given though: Whether your listening to these mixes through your surround sound system in your home office or via your earbuds in your tiny cubicle, the music definitely inspires creativity. As creative individuals such as graphic designers and developers, or someone who is simply looking for a mid-day pick me up, this site should definitely be on your browser's bookmarks bar. Each mix links to the mix creators website and Twitter page and listeners also have the ability to comment on user mixes, tweet them, share them on Facebook, or scroll through similar mixes. Why not spread the joy, right? It's a great way to connect and network with other designers from around the world too. The other day I happened to tweet about the mix I was listening to and the creator tweeted me back, saying how appreciative he was for the support. Now we both follow each other on Twitter (networking BOOM).
The Extra Mile
Finally, the feature that I think tops this site, is that it's coded to be optimal on a mobile device. The staff at Designers.MX have taken that extra step to code this sucker as a web app! This ensures that you can listen to all these sweet mixes, even on the road. So the next time you are craving some new tunes or are lacking inspiration head over to Designers.mx.
Oh, I guess I'll leave you with some of our favourite mixes to date:
Enjoy!